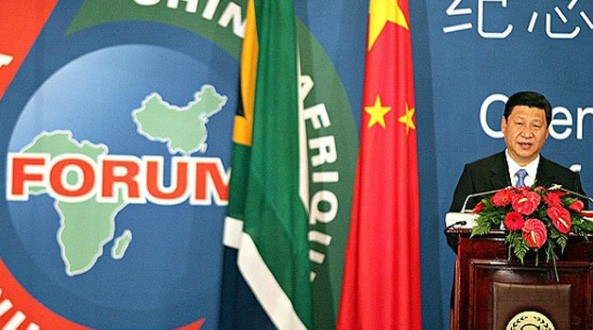 As Beijing gets ready to welcome dozens of African leaders to the Beijing Summit of the
Forum on China Africa Cooperation
(FOCAC 2018) in September, many will be wondering whether or not China has lived up to the
2015 FOCAC commitments
made in Johannesburg. FOCAC pledges have happened every 3 years since 2000 and
I have been analyzing them since 2006
. As we prepare for analysis of this new round, this "Real Story" FOCAC Primer should help.
I. The FOCAC cooperation plans are usually funded by different, specific instruments, and different Chinese financiers. The $60 bn pledged at the FOCAC in Johannesburg in 2015 was not all "official foreign aid" and it was not all "loans."
Let's look at the exact language in
Xi Jinping's 2015 speech
at the Johannesburg FOCAC Summit:
To ensure the successful implementation of these ten cooperation plans, China decides to provide a total of US$60 billion of funding support. It includes US$5 billion of grant and zero-interest loans; US$35 billion of loans of concessional nature on more favorable terms and export credit line; an increase of US$5 billion to the China-Africa Development Fund and the Special Loan for the Development of African SMEs respectively; and the China-Africa Fund for Production Capacity Cooperation with an initial contribution of US$10 billion.
To elaborate:
China Development Bank (commercial)

responsible for $5 bn for the CAD-Fund: this is equity investment. This pledge represents only an increase in the fund. It is not guaranteed to be disbursed over 3 years (see point 4 below).
also responsible for the increase of $5 bn for the "Special Loans for the Development of African SMEs". Disbursed over time, probably more than 3 years.

Ministry of Finance/Ministry of Commerce (concessional)

$5 bn for grants and zero-interest loans. These are administered directly by the Ministry of Commerce. They should all be disbursed by now.

China Eximbank (mixed)

$35 bn of concessional foreign aid loans and preferential export credits AND export credit lines. Concessional loans and preferential export credits are only provided by China Eximbank. The inclusion of "export credit line" was new for FOCAC pledges. This could signal commercial rate lines of credit (which China Eximbank also provides) or it could mean the inclusion of China Development Bank. All should be disbursed by now.
$10 bn for the China-Africa Fund for Production Capacity Cooperation. This is also an investment fund and is administered by China Eximbank and SAFE (the State Administration of Foreign Exchange, in charge of China's foreign reserves). Disbursed over time.
II. Why would it be a mistake to assume that all Chinese loans to Africa are part of the FOCAC pledges
?
At the
China-Africa Research Initiative
(CARI) at SAIS, we track all Chinese loans in Africa. The two policy banks -- China Eximbank and China Development Bank provide most of them. But we now see China's commercial banks --- ICBC, Bank of China, etc. -- making commercial loans in Africa.
Our
CARI database
suggests that in the past,
only
China Eximbank's preferential and concessional loans were included as part of FOCAC's general pledges. For example, our
CARI database
loan totals for 2013-2015, the last FOCAC period, come to over $42.5 bn -- including suppliers credits, ICBC, CDB, etc. But the FOCAC pledge for that period was only $20 bn. So only about half of that would be specific to FOCAC and reflect the fulfillment of Chinese pledges.
Indeed, a quick look at the loans by lender shows that during that period, China Eximbank committed or disbursed $26.4 bn out of that total. They are the main player for China's loans in FOCAC. Given China Development Bank's more commercial orientation, this is almost certainly going to continue.
III. Some FOCAC commitments are open-ended in time frame and will roll out over more than 3 years
.
As one Chinese diplomat told me in 2015, implementing these pledges will go "most likely beyond 3 years or even longer."
For example, at the 2006 FOCAC Summit, Beijing pledged to help set up 3 to 5 trade and economic cooperation zones in Africa. As
our research showed
, this pledge was not concluded until 2012. The initiative was led by Chinese companies, not Beijing. Negotiating, securing land for the zones, advertising them: it all took far more than 3 years.
CARI will be publishing more analyses in the lead up to FOCAC
here on our blog
and on our
website
. Stay tuned!